The excerpt below is from a press release from Gov. McCrory's office announcing the 2016 North Carolina Heritage Award winners. Many folks in Greensboro are familiar with the Montagnard community, but it's probably a safe bet that folks outside of Greensboro would be surprised to learn about how large the community actually is. I need to make a note to myself to try and see some of the work of the award recipients – it really looks stunning.
H Jue Nie and H Ngach Rahlan
Calling themselves Dega, more Vietnamese Montagnards settled in North Carolina than in any other state, due to their fellowship with Special Forces units during the Vietnam War. Dega weavers H Jue Nie and H Ngach Rahlan of Greensboro mastered the ancient spinning, dying and weaving traditions of their people while growing up in the central highlands of Vietnam. Once a part of every highland woman's knowledge and practice, women wove to clothe their families, decorate homes and altars, and to keep everyone warm at night. Originally Montagnard weavers grew their own cotton, spun their thread by hand, and used dyes from the indigo plant and other natural sources. Decorative elements such as beads were once made from plant materials that grew in their rice fields. War and displacement has reduced the numbers of skilled weavers remaining in Vietnam. H Jue Nie and H Ngach Rahlan moved to Greensboro 20 years ago, bringing their backstrap looms and an immeasurable knowledge of the designs and techniques that make their weaving traditions unique.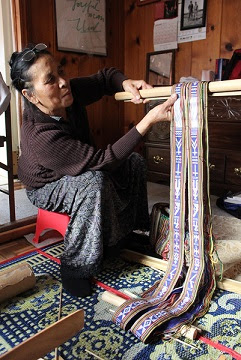 Explore the work:
Montagnard Weaving: The Women
Backstrap Weavers
Montagnard Weaving: Overview
Backstrap Weavers
Montagnard Weaving: BacksStrap Loom
Backstrap Weavers